The MAOLA brand was inspired by nature.
For the love of simple forms, our passion for design and surfing, we've created MAOLA. We love designing, we love space and nature, and surfing is a passion and a way of life for us. Our world is colors, lines and textures. That's where we get ideas.
MAOLA is good design, minimalism, paying attention to environmental protection and ecology. This is what we follow when designing.
This is a small, sister manufacture of handmade jewelry and accessories. Our products are created from designing on a sheet of paper to implementation.
We create things for people who value simplicity and, at the same time, a natural character.
Shaka
Marta & Monika
MAOLA – INSPIRED BY NATURE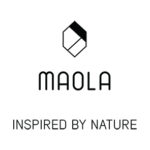 [instagram-feed]